Beginning Glass Fusing & Slumping:
Coasters & Catch-Alls
with Kelsey Wright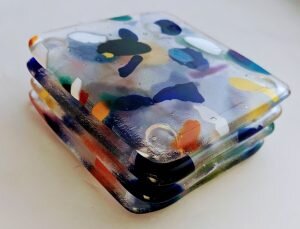 Thursdays, 4 classes
6pm – 9pm
Skill Level: Beginner
Offered for:
Summer Session 1 (June 8, 15, 22, 29)
Summer Session 2 (July 27, August 3, 10, 17)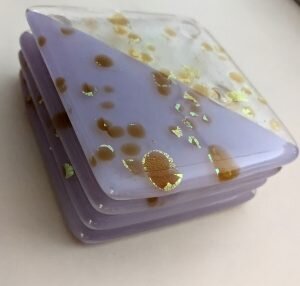 Learn how to use flat glass to to create your own unique coaster set and catch-alls. In beginning fusing and slumping, you will learn to cut flat glass into desired shapes that you can then assemble into the desired design. By the end of the class, you will have created a 4-piece coaster set and a fused-then-slumped small dish, great for change, keys, or just a beautiful piece for your home.
Non-Members: $300
Members: $250
Please note: This class is held at the 719 Central Ave location- not at the Morean Glass Studio.