Yoga in the Garden with Amanda Riker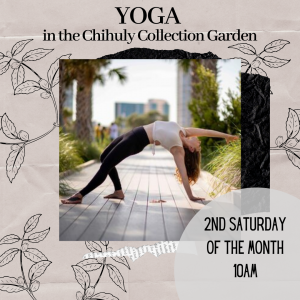 2nd Saturday of each month
10:00am – 11:00am
UPCOMING DATES:
April 9
May 14
June 11
Join Amanda Riker for a one-hour, all-levels yoga flow in the oasis of the Chihuly zen garden. This class focuses on guided movement paired with breathing to calm your mind and open your body. You will leave feeling both refreshed and relaxed.
$12/class
*Bring your own yoga mat*
*Pre-registration is required*
Amanda Riker
I'm a self-proclaimed, modern-day Renaissance woman, always seeking out my next greatest endeavor. A former school teacher, my passion is absolutely to teach. I found my best teachings shine in the yoga "classroom".
I'm as real as real gets.
My teaching method involves an approachable yet direct form of communication.  I speak the way I'd like to be spoken to ~ honestly, earnestly and with a hint of humor to keep it light.  I will never be the "fake it" type. I strive to be relatable to my students so they feel safe and supported in their own discovery, exploration and practice of yoga.
I teach all styles of yoga because my practice centers around YOU.
I believe yoga is for everyBODY. It doesn't ask you to fit into some mold; rather, it asks that you listen to what your body is communicating to you, personally and unique to your own experience.  Every yoga body explores a shape and does so intentionally. My role as an instructor is to help guide you in asking what your body wants and to show you ways to make it just for you.