Introduction to Watercolor with Linda Griffin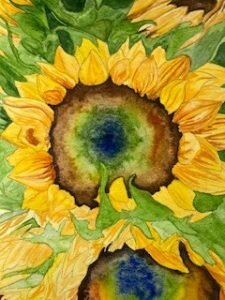 Wednesdays, 6 classes
6:00pm – 8:00pm
Skill Level: All Levels
Offered for:
Fall Session 1 (September 20, 27, Oct 4, 11, 18, 25)
Fall Session 2 (Nov 8, 15, 22, 29, Dec 6, 13)
Discover the nuances of working with watercolor. In this class, you will learn the basic techniques and skills involved in painting with watercolors through demonstrations and application. Everything from how to make a wash to creating realistic flesh tones will be explored. Our focus will be more on learning to paint with this beautiful and fun medium, rather than on drawing techniques. But for those of you looking to expand your drawing, I will certainly be there to guide you every step of the way.
SUPPLIES (Student Responsibility):
Strathmore 140lb 9×12 cold press watercolor paper

Drawing pencil

Kneaded eraser

Jar for water

12-14 color Winston Newton travel watercolor cake set or individual tubes of yellow ochre, cobalt blue, ultramarine blue, burnt umber, cadmium red, alizarin crimson, cadmium yellow, burnt sienna, sap green, viridian, naples yellow, sepia

Brushes: one number 0 round, one number 2 round, one number 8 round, one 1-inch flat
Non-Members: $210
Members: $160
Purchasing a gift for someone? Consider a gift card! Call us at 727-822-7872 or drop in during business hours!
Sign up for a membership HERE, and receive $50 off For more information, please call the Morean Arts Center at 727.822.7872
Instructor Biography: Linda Griffin
Linda Griffin is originally from Delaware and has lived in Florida since 1996. Growing up in the Northeast she spent a lot of time outdoors digging in the dirt and catching frogs. Her love of nature appears as a central theme throughout all of her artwork. Studying fine arts as a minor at the University of Delaware, she spent a lot of time sculpting and developing film. It wasn't until about ten years ago that she tried watercolors for the first time. She has been commissioned to paint portraits of people and houses throughout the United States. She has been teaching art for over 20 years.
Linda continues to draw inspiration from the natural world around her within her watercolor compositions, and has also recently expanded into the medium of inks, still drawing from nature, but in a more graphic and simplified style. She is also currently exploring painting on a variety of surfaces such as tree bark, and creates overlays of natural fibers. She has just begun to explore pastels as well.
…