Watercolor & Mixed Media with Carmen Cruz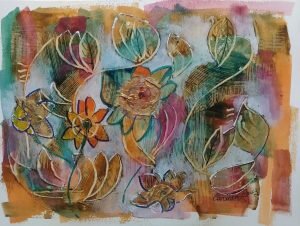 Tuesdays, 6 classes
1pm – 3:30pm
Offered for:
Winter Session 1 (Jan 10, 17, 24, 31, Feb 7, 14)
Winter Session 2 (Feb 28, March 7, 14, 21, 28, April 4)
In this class, we explore the diverse world of Mixed Media. Mixed media is a type of visual art that combines more than one medium or material. Mixed media art can take many forms. Mixed media artworks feature different materials such as paint, fabric, paper, and found objects.
In this class, we will explore the use of watercolor, acrylic, rice paper, found objects, ink, colored pencil, as well as acrylic gels and gesso.
Come join the fun!
Supply List:
Primary watercolor paint (Red, blue, yellow)
Primary acrylic paint (Red, blue, yellow, white)
Watercolor paper (Arches 140 lb cold press)
OR canvas (Student preference)
Non-Members: $210
Members: $160