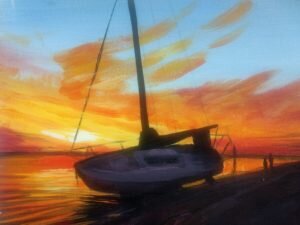 NOW ONLINE: Acrylic Painting Mondays
with Shawn Dell Joyce
10am – 12pm
Skill Level: All Levels
Offered for: 
Take your painting to the next level. Learn the steps to producing a finished, polished painting. Use a palette knife to produce a sailboat painting with correct perspective, paint a beautiful flower using values and different brushes. Paint a still life painting from life, and a painting from your own photo.  Use primary yellow, red, Ultramarine blue, black and white acrylics, and whatever brushes you have at home (including a palette knife, flats, rounds, liners, fan brush, and sea sponge).
No drawing or painting experience required! All classes step-by-step and geared toward beginner painters.
Once you register for the class you will be sent a zoom password and all details for class preparations and participation.
Purchasing a gift for someone? Consider a gift card! Purchase here!
Cost:
For the class $75


For more information, please call the Morean Arts Center at 727.822.7872