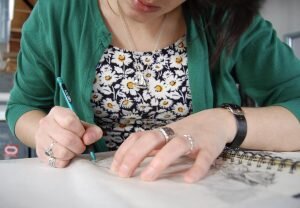 Teen Art Books Online with Noelle Stillman 
Check back for future dates!
This six week course is an awesome opportunity for teens preparing for art college or simply looking to delve deeper into their artist practice! Through book making, journaling, art exercises and explorations, challenges, prompts, and group critique, gain deeper insight into the creative process and grow your inner artist.
Materials List:
https://www.dickblick.com/lists/blicku/JBJU4TLK7UW06/items/
Please refer to UBlick for book making materials. Any and all drawing materials- artist choice- are also recommended.
Purchasing a gift for someone? Consider a gift card! Call us at 727-822-7872 or drop in during business hours!
Non-Members – $180    Members – $153


For more information or to register over the phone, please call the Morean Arts Center at 727.822.7872
---
Noelle 
Jordan
Stillman
 is a teaching artist located in Tallahassee, FL. She builds community through the arts by creating and teaching in a diversity of communities.