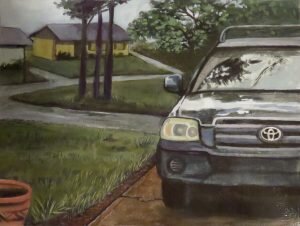 Mondays, 6 classes
4pm – 6pm
Skill Level: All Levels
Adults & Teens Ages 16 & up welcome
Offered for:
Winter Session 2 (Feb 27, March 6, 13, 20, 27, April 3)
Spring Session (April 17, 24, May 1, 8, 15, 22)
Want to make your art better than ever? This class will focus on making better paintings through understanding the main principles of line, value, proportion, composition, color theory, mixing color, as well as the technical use of tools and paint. We'll also learn to paint simply and quickly so your art will have a stronger impact. You may work in oil or acrylic. In this course, you will have the freedom to set your own pace, making it the perfect class for beginning or advanced artists. Tommy Bell has a BFA from Ringling College of Art & Design, where he majored in painting. He has taught art classes at the Morean Arts Center and other local venues for years.
Painting Materials (student responsibility):
Paint (oil or acrylic or both)
Basic Colors: White, Yellow, Red, Blue, Burnt Sienna
Preferred Colors (optional): Titanium White, Cadmium Yellow, Yellow Ochre, Cadmium Red, Alizarin Crimson, Ultramarine Blue, Phthalo Blue, Burnt Sienna, Burnt Umber
Canvas (any type or size – Canvas paper is fine)
Painting Palette
Brushes
Non-Members: $190
Members: $140
Purchasing a gift for someone? Consider a gift card! Call us at 727-822-7872 or drop in during business hours!
Sign up for a membership HERE, and receive $50 off
For more information, please call the Morean Arts Center at 727.822.7872