Pearl Opportunities with Tom McCarthy
2-Day Master Artist Workshop
Saturday and Sunday,
March 7 and 8, 2020
10am – 4pm each day
Skill Level: Intermediate/Advanced
Pearls have been used in jewelry for a very long time. Come learn the numerous ways to incorporate them into your work. We will discuss types of pearls and make pearl settings; we'll learn to string them and create pearl chains with wire. We will half drill them and enlarge the holes of pre-drilled pearls. By the end of class, you will begin to think of each new piece of jewelry as a pearl opportunity!
Basic metalsmithing skills required.
Max number of students is 12
Cost:
Member $225
Non-Member $245



To register by phone, please call the Morean Arts Center at 727.822.7872
---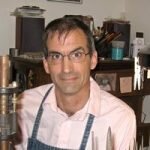 Tom McCarthy has been making jewelry for over thirty years. He has an MFA from Southern Illinois University, Carbondale. His work is in numerous private and public collections including the Mint Museum of Craft and Design in Charlotte, NC. McCarthy has often taught at Penland, Arrowmont School of Arts and Crafts, and the Campbell Folk School. He contributed a chapter to The Penland Book of Jewelry, Lark Books. The State of Florida awarded him a Fellowship in the Arts in 2006.
"I like to make stuff. Specifically I like to make stuff for people to wear. Jewelry fascinates me. What people wear, how they wear it, what I can make wearable, and how I can make it are the kinds of things that daily occupy my attention.
Based in traditional craft ethos, my work is an exploration of material and form. This investigation is ultimately about beauty and the interplay between object and wearer."