SCULPT A GLASS FLOWER at the Morean Glass Studio & Hot Shop
Offered every Second Saturday of the Month, 6-9pm
Click Register Here button below for available dates.
Watch, learn and participate with your very own sculpted glass flower making experience in the Morean Glass Studio & Hot Shop! Gather a group of friends and sign up together or register on your own. Limited to 8 people per night, this event runs from 6pm-9pm, with each participant given enough one-on-one time with a professional glass artist to create 2 glass flowers.

Choose your own colors, lay out the colored frit (granulated glass) in the desired pattern on the marver (flat steel surface). Then, with the assistance of a professional gaffer (glassblower) gather up molten glass, adhere the color, then heat, shape, and pluck into a flower shape.
PLEASE NOTE:
Pieces will need to cool in our
annealer
for 48 hours; once they reach room temperature, they are yours to keep: pick-up (free) or delivery (for a delivery fee) available. All pieces must be picked up within 30 days of pick-up notification.
Purchasing a gift for someone? Consider a gift card! Call us at 727-822-7872 or drop in during business hours!
Non-Members – $90    Members – $77
Maximum number of participants: 8
No refunds.
To register by phone, please call the Morean Arts Center at 727.822.7872
Instructor: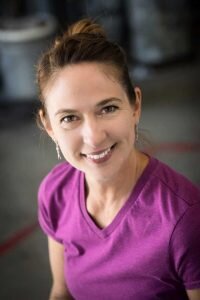 Edelweis Walker has always had a great interest in artwork. From a young age, one of her favorite subjects was art class. Whether it was drawing, painting or sculpting, she was eager to try new mediums. In college, Walker majored in Health Science and graduated with her A.S. Degree in Radiography, but she always kept an art class in her curriculum. Walker continued taking art classes after she graduated and worked mainly in ceramics and wheel thrown pottery. In 1999, she learned stained glass and later began learning fused glass. However, blown art glass had always intrigued her. In 2011, Walker attended a glass blowing demonstration at the Morean Arts Center Glass Studio & Hot Shop. Within a month of seeing the demo, she signed up for a beginners glass blowing class with David Spurgeon. She discovered a new form of art that challenged and excited her. After attending several 6-week classes, she became Spurgeon's apprentice. She is now one of the Gaffers on the demo team at the Morean Glass Studio & Hot Shop and enjoys continuing to learn as she creates.