Studio Painting with Shawn Dell Joyce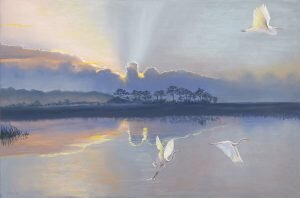 Tuesdays, 6 classes
6:30pm – 9:30pm
Skill Level: Beginner/Intermediate
Offered For:
Fall Session 2 (Nov 7, 14, 21, 28, Dec 5, 12)
Ready to take your painting to the next level? Want to learn how to paint portraits, still life, and interpret a photo reference? This is the perfect class for someone who has had a beginning painting class and isn't sure what to do next. Each class in this 6 week session will focus on a different technique and theme. Bring your favorite medium like oil, acrylic, watercolor, or pastel and choose your favorite subject to paint. Each class will start with a demonstration of a new technique, like how to paint a portrait in pastel or oil, or interpreting a photo to make an Impressionistic painting, or creating the illusion of perspective using color, value, and line. Your challenge will be to incorporate the new technique into your own work. Choose from still life (or model) provided, your own reference photos, or provided photos. Make sure you have a beginner's class in your medium before taking this one.
Class will be on easels in a studio with controlled lighting and still life. You can choose to stand or sit during painting. Class starts with examples of old master's works in the same topic, then a demonstration by instructor, and individual attention while you paint independently. This class repeats with new subjects so take it as many times as you wish.
Work in the medium of your choice….oil, acrylic, pastel, or watercolor!
Materials by Medium:
If you are working in oils:
Solvent container with clamping lid
Small sketch pad w/ pencil or marker
Oil paint (basic colors, plus phthalo blue for Florida skies!)
Brushes (plus palette/painting knife, sponge)
Canvas, or Ampersand panels or other support- 12×16 or smaller work best
Solvent (Gamsol or Turpenoid)
If you are working in pastel:
Set of 24 pastels
9×12 or 12×16 pastel paper/ or Ampersand Pastelboard or other support (I use Ampersand Pastelboard)
Clipboard to attach it to
If you are working in watercolors:
Set up watercolors
Watercolor block or mounted paperm or Ampersand Aquaboard
Assorted watercolor brushes
Water & a cup
Other materials you may need:
Towel, sketchbook, and pencil.
Class 1: Values
Class 2: Color theory
Class 3: Perspective
Class 4: Perspective (illusion of depth)
Class 5: Portrait
Class 6: Figure
Don't want to paint the still life model? Just bring your own photo reference instead and work from it. You can still incorporate the lesson into your work.
Non-Members: $210
Members: $160
Purchasing a gift for someone? Consider a gift card! Call us at 727-822-7872 or drop in during business hours!
Sign up for a membership HERE, and receive $50 off
For more information, please call the Morean Arts Center at 727.822.7872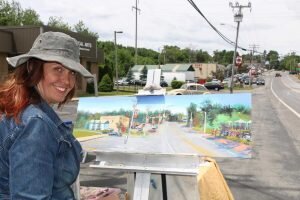 Instructor Bio:
Shawn Dell Joyce began her career as an artist's apprentice in NY's SoHo area in the 1980's and worked in the studios of many prestigious artists. Her entrepreneurial spirit called her North to the Hudson Valley, where she began teaching a series of plein air painting classes in 2000. Her classes became so popular that she hired other artists, and founded a plein air school with an Arts and Agricultural mission based on the historic Hudson River School.  Almost twenty years later, her nonprofit has grown to encompass a beautiful historic home with 5 classrooms, three galleries, 25 teaching artists and 40 represented artists. Joyce continues to be executive director of the Wallkill River School of Art, a nonprofit arts organization with a mission of preserving agricultural history while creating economic opportunity for local artists. The Wallkill River School brings cultural tourism to the Hudson Valley region through plein air painting workshops and events on local farms, historic sites and open spaces.
Shawn Dell Joyce has won many prestigious awards for including 1st in the Quick Draw at the 2017 Hudson Valley Plein Air Festival, and People's Choice in the International Plein Air Paint Out 2005 in Niagara Falls.  She is a signature member of New York Plein Air Painters (NYPAP), and International Plein Air Painters (IPAP), and has been featured in many national newspapers and magazines like the New York Times and Plein Air Magazine. She has participated in many national exhibits and plein air festivals, and is represented by galleries in NY and Florida. She teaches workshops in pastel and plein air techniques across the country. Her work is included in collections in the Georges Pompidou Museum in France and the Museum of Modern Art in NY.