Tuesday PM Beginning/Intermediate Painting
with Rose Marie Prins

Tuesdays, 6 classes (3 week option for returning students only)
7pm – 9:30pm
Skill Level: All Levels
This is a 3 or 6 week class. Students must attend during the session in which they register.

Offered for:
Summer Session 1 (June 7, 14, 21, 28, July 5, 12)
This class is also offered on Fridays from 10am – 12:30pm.
Students will learn various painting techniques, such as color blocking, shading, over-painting, and direct color application. Learn how to build on these techniques using acrylics, oils, watercolors and mixed media to expand these approaches into larger paintings of more complicated subjects.
Materials List (student responsibility):
Rose Marie Prins Materials List for Beginner Intermediate Painting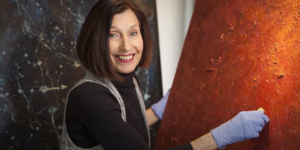 Purchasing a gift for someone? Consider a gift card! Call us at 727-822-7872 or drop in during business hours!
6 classes/Non-Members – $203   
6 classes/Members – $153
3 classes – $120
Sign up for a membership HERE, and receive $50 off
To register by phone, please call the Morean Arts Center at 727.822.7872 ex 2121