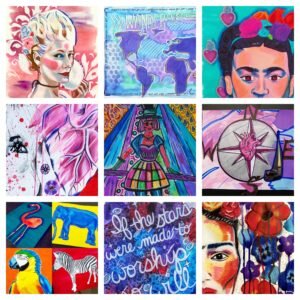 Watercolor and Mixed Media with Olivia Thornton

Come explore fun mixed media options with us!
Participants will learn intermediate watercolor techniques to enhance their painting skills. Then, we will play with and utilize the following materials to create more impactful visual art: a 3-d pen, acrylic markers, brush markers, chalk and oil pastels, color pencils, fabric, gel pens and markers, glitter glue, ink pens, metal, photos, mixed paper, permanent markers, watercolor crayons and pencils, a wood-burning tool and much more!
All supplies are provided but feel free to bring personal mementos to include in art-making. Art makers of all learning levels are encouraged to attend!
Members: $85/ Non-Member: $100 . Pre-Registration Required . Supplies included.
Sundays, 12:00pm-4:30pm
To register by phone, please call the Morean Arts Center at 727.822.7872
…