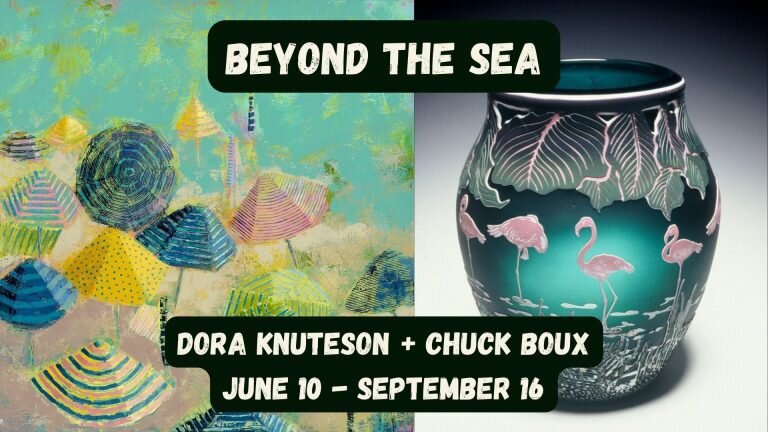 The ocean, along with its colors, surface and inhabitants, plays a big role in Dale Chihuly's life and work. Growing up in the Pacific Northwest, he has spent most of his life on or near Puget Sound. Several of his glass series, including Seaforms and Float Boats, reflect his love for all things aquatic. He has said, "I love to walk along the beach and go to the ocean. And glass itself, of course, is so much like water. If you let it go on its own, it almost ends up looking like something that came from sea." (Bannard + Geldzahler, Chihuly: Form from Fire, Daytona Beach, FL and Seattle: The Museum of Arts and Sciences and the University of Washington Press, 1993)
In selecting exhibitions for the temporary gallery space at the Chihuly Collection, we seek out artists whose work has an affinity for Chihuly's interests and complements his unforgettable glass installations. Ft. Myers-based painter Dora Knuteson and St. Pete-based glass sculptor Chuck Boux share Chihuly's affection for the sea, both from a coastal and underwater perspective.
When Dora Knuteson relocated to Southwest Florida from her native Wisconsin in 2015, she began painting her new surroundings, including the sunny shorelines of the Gulf Coast. Her loose, painterly renderings of beach umbrellas call to mind summer memories, and, in a formal sense, echo Chihuly's Seaforms and Persian series.
A long-time resident of the Sunshine State, Chuck Boux creates blown glass vessels adorned with sea life, including various types of fish, sea turtles, octopi, and even a scuba diver encountering a shark.
About the sea, Chihuly has said, "Water is the one thing that I can assure you is a major influence in my work and my life and everything I do. If I don't feel creative, if I can get near the water, something will start to happen." (Dale Chihuly + Margery Aronson, Fire: Dale Chihuly, Seattle: Portland Press, 2006).