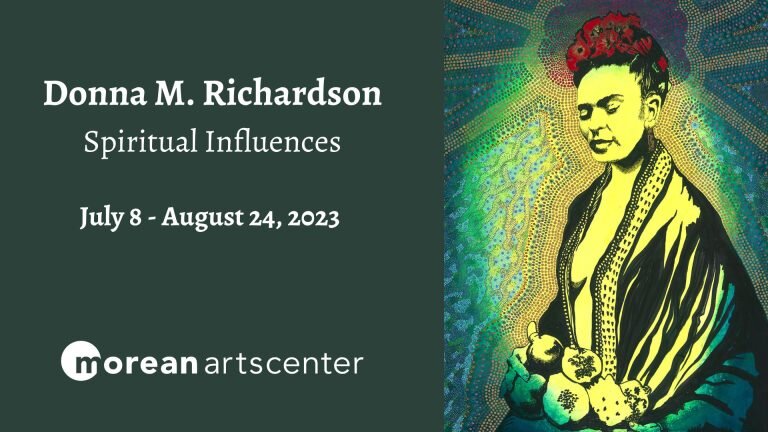 Join us for a free members-only preview of this exhibition on Friday, July 7th from 5pm to 7pm.
Donna will give a brief gallery talk at 5pm. 
The exhibition opens to the public on Saturday, July 8th from 5pm to 8pm.
Continuing a new tradition at the Morean, we are proud to present last year's Margaret Murphy Steward Best of Show winner, Donna M. Richardson. In addition to a cash prize, the winning artist receives a solo show in our gallery to coincide with the following year's members show. Donna is the eleventh artist to receive this opportunity, and we are pleased to showcase her latest portrait-based paintings during this time. Here's what she has to say about her work:
"My unique art style, which I have dubbed 'Indie Pop Art', is a celebration of the noble beauty and divine nature of people of indigenous descent, and contemporary American culture. My artwork is distinguished by my love for aboriginal dot painting, as well as my appreciation for the use of negative and positive space to create intricate patterns that draw upon the deep traditions of sacred African and Native American art.
"My work is a fusion of my life experiences, from world travels, to public school teaching, and meaningful connections to family, spirituality, and culture. Through my art, I seek to push the boundaries of imagination and inspire others to connect with their own spiritual and creative roots. What sets my work apart is my commitment to exploring the connections between diverse cultures and traditions. I believe that art has the power to bridge the gaps between different communities and bring people together in a shared experience of beauty, inspiration and limitless potential."
Donna M. Richardson is an accomplished artist and educator who spent 30 years inspiring the next generation of creative minds as a public school art teacher. Born and raised in New York to Jamaican parents, Donna's passion for pushing the boundaries of imagination and inspiring others to connect with their own spiritual and creative roots has been a driving force in her life and work.
Donna's works have been featured in galleries and museums throughout the United States, in acclaimed exhibitions around Florida, and in private collections abroad, including those of world-renowned chefs, musicians, and Orange County Commissioner, Homer Hartage. Her work, Women of the Bluest Eye, gained widespread recognition for its artistic excellence and has become the recent subject of much local and media attention, further cementing the significance and impact of her work.
Donna holds a Masters degree in School Administration and Supervision from the College of New Rochelle in New Rochelle, NY, a Masters in Instructional Technology from The New York Institute of Technology in Brookville, NY, and a Bachelor of Arts from SUNY College at Old Westbury in Old Westbury. To learn more about Donna's work, visit her website at www.dmrichardsonart.com.