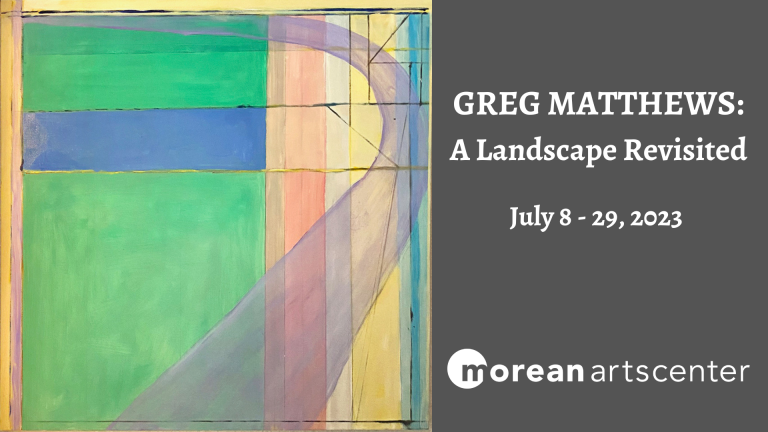 Opening Reception: Saturday, July 8, 5pm to 8pm
The Morean is pleased to present recent paintings from Greg Matthews during the month of July. Coinciding with our annual members show, and a long-time Morean member himself, Greg's paintings reflect a lifelong love of learning and experimentation.
Looking at space
"My paintings allow me to look at the world in new, and hopefully, striking ways. I hope you enjoy my journey and share my perspectives.
"Unlike my first paintings that were developed along the lines of traditional Hudson River School landscapes, my work has evolved to simplified gestural forms, frequently embedded within contrasting hues. Where I initially strove for three-dimensionality, echoing my earlier photographic work, I now move to greater simplification. Three-dimensionality frequently becomes an illusion and images flatten, avoiding direct perspective. I see my work as fresh observations of the lands around us; a bird's-eye view from a plane window that reduces our world to simple lines and shapes, modified by natural and man-made formations. The more I look at the world in new ways, the more I see and the more I want to show the viewer."
How I got Here
"Fifty years separate my early painting instruction at the University of Tampa and my full time focus on landscape painting. In between, my life was ledgers and numbers. For the most part I am self-taught, having attended dozens of workshops from Florida to Maine. Currently, my work is shown at the Woodfield Fine Art Gallery in St. Petersburg and Uptown Gallery in Franklin, North Carolina. I have exhibited my photography and paintings in numerous outdoor art shows including Mainsail Art Festival, Dunedin Art Harvest and Gasparilla Festival of the Arts, receiving a number of awards for my work at various art exhibitions across the state."