'LINEAGE' THE WHIPPLE FAMILY EXHIBITION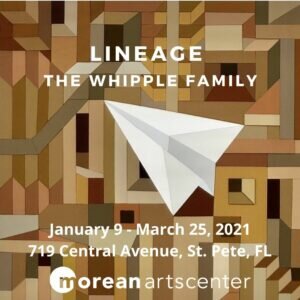 In 1987, George and Marty Whipple rescued a shared Orlando-area studio space from shutting down, creating what would become the McRae Art Studios, now Central Florida's largest artist collective. The space houses the work of over 20 artists; among them are Marty Whipple, her sons John and James, and John's wife Lynn. This exhibition features the joyful mixed-media creations of this creative family. While their styles are distinct, there are ties that bind them, mainly a love of found objects and materials, an eye for color and whimsy, and a sense of PLAY throughout their work.
About the Artists
Marty Whipple moved to Central Florida from Chicago in the 1970s. Once a regular on the outdoor art festival circuit, she was known for her work in jewelry, photography and painting. Her current works are complex collages that reference both whimsical and weighty topics, such as the Creation and Fall of Man.
In her own words, Lynn Whipple is deeply grateful to live her life as an artist. Play and discovery are her dearest and most constant companions. Lynn's work has been featured in over a 20 art books, numerous magazines, newspapers, and on dozens of blogs. Lynn's work has won many awards over the years as she travels nationally to show her work at juried art shows, galleries, and museums. She is the recipient of two Individual Artist Fellowship Grants from the State of Florida Department of Cultural affairs, as well as a Central Florida Individual Artist Development Grant. Lynn divides her time between making original artwork and teaching workshops both online and in person. Her solo exhibition at the Morean, called "Filling the Cup" took place exactly 20 years ago!
In creating paintings, sculpture, and mixed media works, John Whipple experiments with various art processes and is especially interested in developing beautiful surfaces. He graduated from the University of Central Florida, and studied with David Passalaqua, Head of Illustration at Parsons School of Design. His simplified, classical forms have been described as "warm, quiet, universal ideas" and his paintings as "hypnotic." The artist is considered a master of asymmetrical balance.
James Whipple has been a resident of Central Florida since the 1970s and is a graduate of the Culinary Institute of America in New York. James has produced bodies of work in jewelry, mixed media sculpture and most recently, paper collage. His two greatest passions in life are art and food, in which he uses both to navigate his creative processes.
Morean Arts Center/Glass Studio:
719 Central Avenue
Chihuly Collection:
720 Central Avenue
Morean Center for Clay:
420 22nd Street South
727-822-7872