SUNKISSED: Karen Tucker Kuykendall + Steve Hagan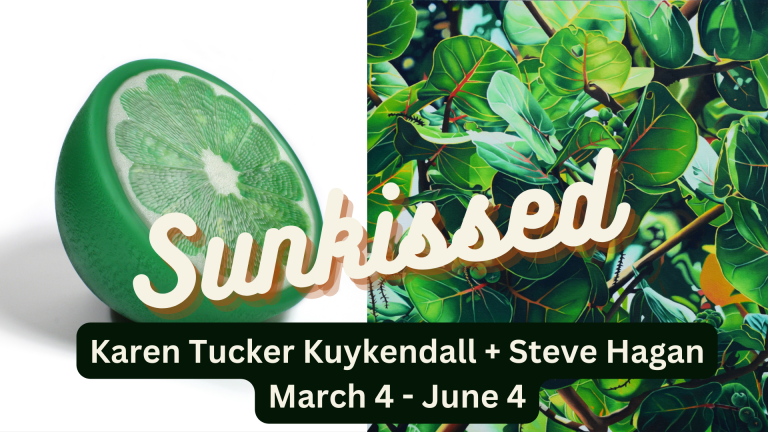 There are two things that are evident as you walk through the Chihuly Collection: the artist's love of color and his passion for the natural world, particularly plants and flowers. Mr. Chihuly's mother, Viola, was an avid gardener, and this theme has inspired much of his studio practice since the 1970s.
In selecting exhibitions for this temporary gallery space, we seek out artists whose work has an affinity for Mr. Chihuly's interests and complements his unforgettable glass installations. Tampa-based painter Karen Tucker Kuykendall and Tucson-based glass sculptor Steve Hagan share Mr. Chihuly's affection for color and the pure joy that comes from creating (and observing) an object of beauty.
A life-long resident of the Tampa Bay area, Karen Tucker Kuykendall makes paintings that bring the Florida landscape to life in vivid color and sun-drenched textures. While her technique is methodical and exacting on the surface, what lies beneath is an ode to the fantastical, hyper-realism that is natural Florida.
Born in Philadelphia and now living in Tucson, AZ, Steve Hagan has spent the last decade exploring the murrini process. The murrini technique is an ancient process where the colorful patterns and abstract images made in a glass cane are revealed only when the rod is cut into thin cross-sections. His focus is the intricate patterns and delicate lines found in citrus fruit, which he mimicks in glass with extraordinary accuracy.
Big thanks to Duncan McClellan Gallery for their assistance with this project.
And in keeping with the Sunkissed theme, don't miss the Morean Arts Center's Fresh Squeezed 7 exhibition, on view April 8 – June 22. Fresh Squeezed is the Morean's annual celebration of emerging artists in Florida; a showcase of the exciting new work being created in the Sunshine State.