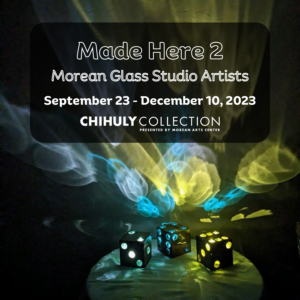 Dale Chihuly is famous worldwide for his massive, engaging glass installations that he and his team create in his Seattle studio, and the Pacific Northwest has become a major destination for glass afficionados.
But did you know that we have numerous super-talented artists creating works in glass just a block away from the Collection at the Morean Glass Studio? Most of our visitors know the Studio as the place to see live glass-blowing demonstrations, but it's also home to local artists who share their knowledge of glass via personal "experiences," workshops and classes, and who use the Morean's studio (or other local studios) to make their own personal work.  We're proud to say that all the work in this exhibition was MADE HERE.
If you've seen our glass demonstrations and are interested in trying your hand at the craft of glass, the Morean has a class or a glass experience for you. We have something for everyone at every skill level; whether you're a beginner or a seasoned artist, whether you want to make glass beads or large sculptures, whether you have 6 weeks or 60 minutes to spare.
Pictured artwork by Kelsey Wright
Participating artists:
Dan Alexander
Harry Boux
Melanie Cech
patsy monk
Adam Pacini
Susanne Sangricco
Anjali Singh
Tim Soluna
Benjamin Elliott Ugol
Kelsey Wright
Christian Zvonik