Yeonsoo Kim Exit Show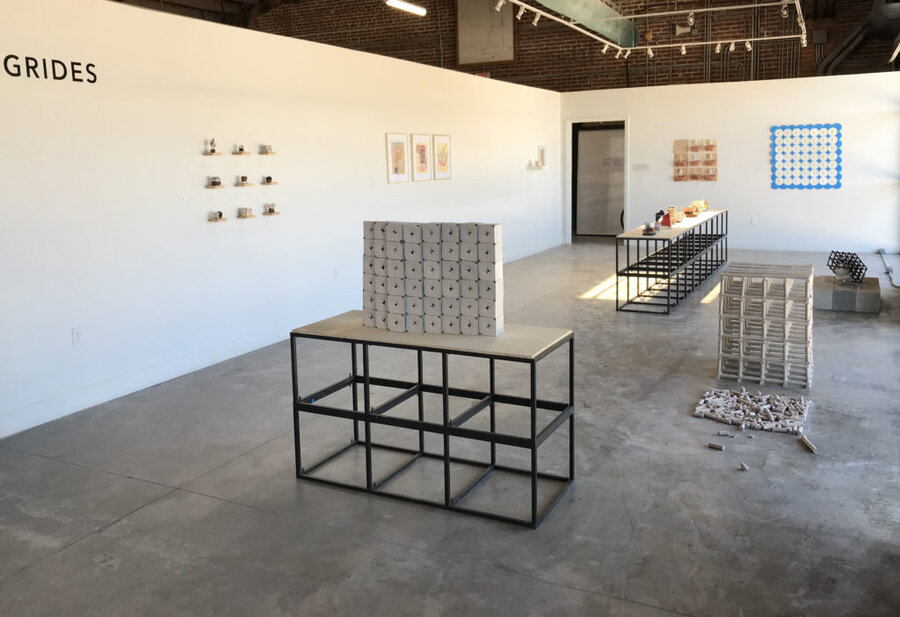 At the Morean Center for Clay "Grides" curated by Artist-in-Residence Danny Dobrow is a continuation of Dobrow's exploration of boundary testing ceramicists. Jennifer Halli works with ceramics and printmaking, creating structures that explore place and material while excavating theme of travel and loss. For the exhibit at the Morean Center for Clay she explains, To reflect my manner and acknowledge my current locale, I have been making site-specific minimalist installations in and around New Bedford, MA. The objects made of clay, paper, ink, metal and fibre are abstract references to the grid – symmetrical and structured. Captivated by this universal construct of containment, boundaries, repetition and continuity, I create compositions utilizing primary elements in multiples."
Rachel Yan Gu, who works from New York State approaches the "Grides" challenge from a nearly molecular perspective. She sees the surface of the world as composed of innumerable points. In her art she seeks to abstract these points for the sake of comprehension. "Like molecules, numbers, and pixels, they may also be an apple, a road, or a single person," says Gu. "Under these points are numerous nets, which are independent but also link everything together. I hope to see the nets through the points to explore the core of the world underneath."
Aaron Becker, the resident artist at Lill Street Art Center in Chicago, fits into "Grides" as he pursues a creative path that attempts to break all the rules while letting the spirit of functional pottery live on. "When look at my ceramic artworks I offer you a glimpse into my mental space," he explains. "Pairing wheel thrown domestic pots with sculptural elements about idealized interiors, I try to distort scale and pull the viewer into the reality of an imagined space." Aaron will be doing a spoken word performance at 7:00 pm. The live performance will be followed by a gallery talk facilitated by Danny Dobrow and Austin Coudriet.
Florida Heat Surface

The front gallery features national ceramist icons, Sarah Pike, Jason Brigs, Zemer Peled, Giselle Hicks, and Kyle Carpenter who hosted January workshops at the Florida Heat Surface Workshop. The exhibit showcases mastery of craft in clay forms, glazing, slips, underglaze, decals, scraffito and Mishima.
Intus by Aimee Perez
The Center Gallery, curated by Artist-in-Residence Danny Dobrow, features a solo exhibit of Aimee Perez's "Intus." A continuation of Dobrow's exploration of boundary testing ceramic artists, Perez is known for using various types of clays and surface treatments. She has also used clay as a jumping off point for her wonderfully sculptural work adding encaustic, wax, metals, glass and found objects to add layers to a piece. Her "Intus" exhibit features human forms that serve as archetypes. Through the exploration of contemporary, religious and biblical themes Perez explores spiritual truth and the paradoxical truths of suffering and redemption, grief and comfort. Perez has been exhibited in national and international museums and is part of several collections in the United States and Mexico.
The Great Divide
Internationally renowned-ceramist Bruce Dehnert of the Peters Art Valley Craft Center in New Jersey conceived of and juried the show. The 42 pieces in the exhibit exploring the dynamic of current geopolitical, environmental and personal relationships were selected from nearly 200 submissions and reflect artist voices from as far afield as China and South Korea.
Stalls
The Center Gallery, curated by Artist-in-Residence Danny Dobrow, is a contemporary installation of local boundary testing artists. Each of the five invited artists were challenged to transform a narrow white stall. Celebrated local art community favorites Cynthia Mason, Sebastian Coolidge, Casey McDonough, Ashley Lester and Danny Dobrow were challenged to transform spaces divided by petition walls. The diversity of execution reflects their distinct visions and audiences are invited to explore the commonalities of response to the constraints of a stall.
Figurative Florida
November 9 thru November 29, 2019
In this exhibit curated by TJ Erdahl viewers have the opportunity to see the work of the state's top figurative ceramic sculptors. Artists included are: Nan Smith, Pavel Amromin, John Byrd, Liz Bryant, Derek Reverts, Taylor Robenalt, Mario Mutis, Angela DiCosola, Tammy Marinuzzi, Matt Schaeffer and TJ Erdahl.
Erdahl's aestethic is reflected in the exhibit. Looking beyond what others see to focus on the worn edges of a well-loved toy, the abstraction of meaning in obsolete artifacts, the personal history of a common man or woman, Thaddeus (TJ) Erdahl uses clay sculpture to build a visual narrative. "I use my art to satisfy my urge to document what I see in human nature. I encourage the viewer to disconnect from the present situation and conjure their own legends from my sculptures," said Erdahl.
Erdahl, is a studio artist in St. Petersburg and teaches at Berkeley Prepatory School in Tampa. He has held residencies at Guldegegaard Internatonal Ceramic Research Center in Denmark and at Arrowmont in Tennessee. Erdahl has had a solo exhibition at Greenwich House Pottery in New York City and was nominated as an emerging voice in craft by the American Craft Council.
Erdahl is also hosting two-day workshop "Shaped Narratives in Clay" from 9 am to 4 pm on Saturday, November 2 and Sunday, November 3 at the Morean Center for Clay. Workshop participants will create a clay replica of their face from a life-cast mold before being guided through techniques in alteration and modification. All skill levels are encouraged while some comfort working small and life drawing or sculpture experience are helpful.
Jen Rose
The Middle Gallery, curated by Danny Dobrow, at the Morean Center for Clay will feature an installation of work created by Texas-based porcelain artist Jen Rose. An opening reception is scheduled from 5:00 pm to 9:00 pm on Saturday, November 9, as part of the St. Pete Arts Alliance Second Saturday Artwalk program in St. Petersburg.
Rose is inspired by nature and prefers working in repetitive forms. In her "Clutch" exhibit her collections of similar forms are inspired by animal or insect species. She self-describes as continually learning and exploring, changing her working medium or even where she lives when curiosity moves her. Her work has explored feminism, sexuality, and the boundaries of strategically planned craft form. Her work delivers conceptual depth and non-traditional approaches to craft media.
"My brain tingles when I see forms and images in endless quantities. If you were around in the early 1980's, you might remember the 'Generic aisle' at the grocery store. For a short period of time, all generic items had black and white, text-only labels that created a wonderland of repetition. This unintended 'art installation' in my small town made a profound impression on my concepts of beauty and order," Rose explains.
"I want my clay to push forward and leave fresh marks of form and surface. I want to see my work hanging from the ceiling and the walls, rejecting the table and pedestal altogether," said Rose. "Most of all, I want to see my thoughts communicated to an audience through whichever medium I choose."
Mark Errol
The front gallery will feature a solo exhibition of Mark Errol, a contemporary Georgia studio potter who is co-owner of Plough Gallery and a Valdosta State University instructor. Errol's work is lush with layers of colorful images and designs on shapes that distinguish his signature style. He is hosting a workshop on October 11, also at the Morean Center for Clay.
Don and Cristina Williams
The Middle Gallery, curated by Artist-in-Residence Danny Dobrow, will feature the dramatic work of St. Petersburg artists Don and Cristina Williams. Don's incredible form work and Cristina's painterly gifts produce breathtaking and unexpected results. "We like to work in Raku and Shino glazes that move and intertwine in the heat of firing," the artists explained.
2019-2020 Artists in Residence Welcome Show
September 2019
The Morean Center for Clay's nationally renowned Artist-in-Residence program is introducing a talented group of six ceramicists with a gallery opening between 5 and 7 pm on Saturday, September 14, 2019. Selected from nearly 50 applicants, the artist styles reflect diverse experiences and training ranging from the lyrical story telling approach of Claire McCauley to conceptual multi-media of returning second year resident Danny Dobrow. The Artist-in-Residence exhibit will be open through October 6.
The participating artists include: Catherine Mills of New Orleans, Claire McCauley, of Chicago, Danny Dobrow of Minnesota, Katie Fee of South Carolina, Jonah Fleeger of Indiana and Yeonsoo Kim of Haenam, South Korea.
in small fortune by Matthew Wicks
September 2019
The Middle Gallery, curated by Danny Dobrow, at the Morean Center for Clay will feature an exhibition of work created by Tampa artist Matthew Wicks. An opening reception is scheduled from 5 pm to 8:30 pm on Saturday, September 14, as part of the Second Saturday Artwalk program in St. Petersburg.
In a deeper exploration of these themes, Wicks' small fortune is an exhibition of works that discuss masculinity, domesticity, getting hard, being soft, and going fast. "While notions of beauty, kitsch and the domestic all comingle under the surface of my work, I strive to challenge the viewer's perceptions of the familiar or often overlooked objects in contemporary life," said Wicks.
Kids Curate Pop-Up Show
August 10-September 10
The campers from our Morean Arts Center Clay Summer Camp got to curate their own show with pieces made from the prior 10 weeks of camp.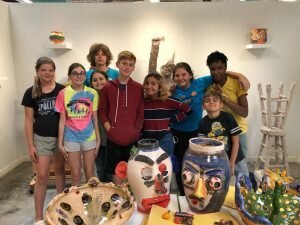 Studio Member's Show
August 2019
Artist-in-Residence Exit Shows
The Morean Center for Clay is proud to present the works of four exiting artists of its 2018-19 Artist-in-Residence (AIR) program by giving each artist their very own solo exhibition. The exhibitions serve as a capstone experience for the program, showcasing a concentration of each artist's work during their time at the Morean Center for Clay. This year's artists include second-year AIRs Emmett Freeman and Jacob Meer (June), along with first-year AIRs Katie Kearns and Ailynda Ho (July). Join us as we celebrate these incredibly talented ceramicists as they complete the final phase of their residency.
St. Petian
July 13-31
Katie Kearns is a St. Petersburg native and is dedicating her show to her hometown. With every new building that pops up, St. Petersburg is quickly evolving from the city she grew up in. In what will likely become her last year as a resident of my hometown, She was able to reflect on the pieces that make up this city. St. Petian is a collection of places that evoke this sense of familiarity and appreciation of home.
Found in Translation
July 13-31
Ailynda Ho exhibits how her Asian-American culture influences her work. This personal narration of experiences affirms her connection with a familial heritage while offering a recreation.
Emmett

June 8-30
Emmett Freeman explores themes of identity through various forms and mediums. He features photographs and ceramic sculptures of himself, along with details about Emmett the person. Emmett also challenges the concept of perception through the masks we wear and how we see ourselves in others.
Inherent Qualities
June 8-21
Throughout Jacob Meer's two-year span of making pots at the Morean Center for Clay, Jacob has been exploring wood firing as a means to glaze his work. Inherent Qualities explores how different clay bodies react within the same wood kilns, and how those clay bodies affect the shape and quality of each pot.

Ceramic Sculpture Collective
February 9 – March 29

Florida Heat Surface Presenters Exhibition
February 9 – March 31
Drip
December 8 – January 31
Eric Botbyl Exhibition
November 7 – 30, 2018
The Ronan Peterson Exhibition
October 13 – 31, 2018
New Artists-in-Residence Exhibition
September 8 – 30, 2018
Studio Members Show
August 11 – 31, 2018
WUS
Tucker Claxton
July 14 – 31, 2018
Object(ive)
Colby Charpentier
July 14 – 31, 2018
Vitae Telam, Vitae Terra
Amanda Bury
June 9 – 30, 2018
There's No Place Like Home
Tommy Frank and Chandra Debuse
April 7th, 2018 – May, 2018

Florida Heat Surface Presenters Exhibition
Feb 10th, 2018 – March 2018
Filling Space
Tucker Claxton and Emmett Freeman
Feb 10th,2018 – March 2018
Spectra A Survey of American Contemporary Wood Fired Ceramics
Dec 9th, 2017 – Jan 2018


Inbound
Artist in Residence 2017-2018

---