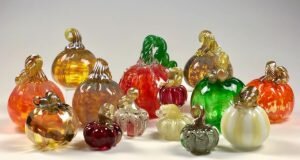 Pumpkin Palooza!
Ready for some spooktacular fun? Join us at the Morean Glass Studio for the much-anticipated fall workshops and pumpkin-making madness!
Throughout the months of September & October, you can watch, learn and participate in making your very own glass pumpkin, while being guided through the entire process by one of our talented demo instructors.
Spots are limited, so secure your spot now and get ready to fall in love with your one-of-a-kind glass pumpkin masterpiece!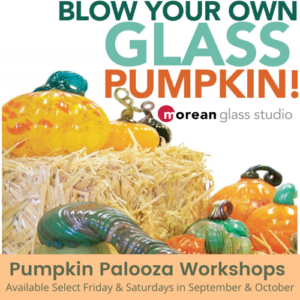 Search available openings below (select Friday and Saturday evenings):
September 2
September 3
September 9
September 17
September 23
September 24
September 30
October 1
October 7
October 8
October 14
October 21
October 22
October 28
October 29
Time: 6p-9p
Tickets: $90 non-member pricing, 15% off for members
No walk-ins, must pre-purchase tickets at least 24 hours ahead
What to Expect: Limited to 10 people per night, this event runs from 6pm-9pm with each participant given enough one-on-one time with a professional glass artist to create a unique personal PUMPKIN. Choose your own colors, lay out the colored frit (granulated glass) in the desired pattern on the marver (flat steel surface). Then, with the assistance of a professional gaffer (glassblower) gather up molten glass, adhere the color, then heat, shape, and sculpt your own glass PUMPKIN.
Pick -Up of Completed Pieces: Pieces will need to cool in our annealer for 48 hours; once they reach room temperature, they are yours to keep: pick-up (free) or delivery (with delivery fee) available.
Proper attire: Closed-toe shoes are a MUST. We recommend for working in the glass studio to wear pants and comfortable long sleeve shirt. However, shorts and short sleeves are permitted. Please wear natural fibers (cotton) as synthetic fibers can melt near high temperatures. Please remove jewelry from hands and arms.
Our minimum age requirement is 11  years old.
HELPFUL TIPS:
Please arrive at least 10 minutes before the event to complete paperwork and prepare for your experience.
LOOKING FOR A MORE PERSONAL EXPERIENCE?
Try our Personal Glass Experience, offered daily. Work 1-on-1 with one of our glass artists and create a beautiful glass pumpkin in under 30 minutes! Click here for availability.