Beginning/Intermediate Painting (Zoom)
with Rose Marie Prins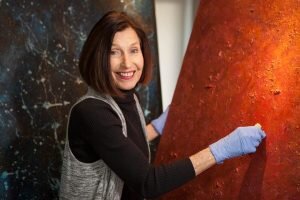 Tuesdays, 6 classes
7pm – 9:30pm
Skill Level: Beginning/Intermediate
Offered for:
Fall Session 1 (Sept 19, 26, Oct 3, 10, 17, 24)
Fall Session 2 (Nov 7, 14, 21, 28, Dec 5, 12)
In this course, all levels of experience are welcome. Explore oils, water soluble oils, acrylics, watercolors, and/or mixed media. Beginners will start with a small, simple, monochromatic still-life selecting three objects of their choice to arrange and paint. They will progress to larger, more complex open palette paintings, learning different techniques such as blocking in, layering, and blending. Advanced students will work on the subject matter of their choice with individual guidance. Each week, we will discuss a different aspect of painting such as composition, value, color, texture, proportion, and perspective. At the end of the final class, we will hold a friendly, constructive critique.
Please note: This is a ZOOM only class – Rose Marie Prins will be instructing live via ZOOM from New Mexico. The Morean Arts Center will be providing a classroom space for this class. All students will receive a Zoom link from Rose Marie prior to the first class.
Non-Members & Members: $100 flat rate